Each year, the Local Arrangements Chairs work diligently to offer tours and experiences for those interested in experiencing sociology in the host city. These optional tours are open to all attendees of the MSS Annual Meeting.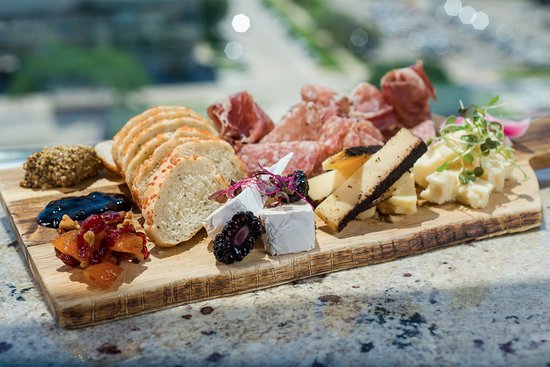 Taste of Iowa virtual food tour
This live presentation will showcase foods from Iowa, celebrating locally owned products. Attendees will receive a tasting box with Prairie Breeze cheese from Milton Creamery, Maytag Blue Cheese from Maytag Creamery, Aged Gouda from Frisian Farms, Prosciutto Americano from La Quercia, and a sweet dessert. Attendees will receive a list of wine and beer pairing suggestions, which they could then purchase ahead of the presentation to enjoy during the event. During the presentation, attendees will see interviews of representatives from some of the companies featured in the tasting box. After these presentations, Amy Goetz, Cheese & Charcuterie Specialist at Gateway Market in Des Moines, will lead the tasting, talk about creating a charcuterie tray, suggest pairings and other accompaniments, and answer questions.
Tickets are $40, which includes a box of listed foods shipped directly to your address and access to the live discussion. The discussion will be recorded for access throughout the weekend by ticketed attendees. 
Registration for this event is limited to 30 and closes February 20 in order to prepare and ship tasting boxes. All tickets must be paid by February 22 to receive tasting box. International shipments are not available.
Amy Goetz, Cheese & Charcuterie Specialist at Gateway Market, Des Moines
Amy has worked in the specialty food industry for over 25 years. As owner of Bramblewood Cottage for 15 years, she created shortbread cookies, scones, caramels, and other treats, based on family recipes. These treats were sold in many states, but mostly in the Minneapolis/St. Paul metro area. Amy worked at Lunds & Byerlys grocery stores in the Twin Cities as a FoodE Expert, assisting customers, promoting products, creating events, and collaborating on product development. Currently, Amy is the Cheese & Charcuterie Specialist at Gateway Market in Des Moines, IA. She curates a large selection of local, national, and international cheeses and salumi. Although she loves all things cheese, ask her about the Birthday Cake Challenge sometime, a long-standing tradition in her family. 
Gateway Market, 2002 Woodland Avenue, Des Moines, IA
Gateway Market is Iowa's Good Food store, creating memorable food experiences by offering an abundant selection of the finest natural, organic and specialty foods sourced both locally and from around the world. Along with their unique, high-quality products and services, Gateway Market offers unmatched access to the best culinary talent in Des Moines.